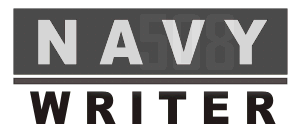 HM2 Yinusa / May 4, 2014 / MACG 48 /
This is an amazing site!!! THANK YOU!
Phill Yates - RMC(SS) USN, RET / Aug 29, 2013 / Navy Marine Corps Military Associate Radio System (MARS) /
It's been 20+ years since I had the 'honor' of writing Navy Evals but I needed verbiage for letters of appreciation/commendation, and your site fit the need precisely.

The website and info it contains is a job well done. Thank you.

IC2(SW)Lockett / May 4, 2013 / USS Frank Cable (AS-40) /
A great website!!! A valued resource, that I show my junior personnel.
IT1(IDW/SW/AW) Guy / Apr 8, 2013 / NCTS DET Chinhae Korea /
This is an amazing site!!! THANK YOU!
CPO1 J.D. Parsons / Mar 11, 2013 / Maritime Command Pacific Headquarters /
CPO1 J.D. Parsons
Maritime Command Pacific Headquarters
Formation Honours & Recognition CPO
YN1(SW/AW) Nancy L. Gonzalez / Feb 20, 2013 / Beachmaster Unit TWO /
Just found this site and love it already! I'm giving training to my fellow PO1's on eval writing and this is my number two reference, next to the Eval Manual itself!
YNC Andrew / Dec 5, 2012 / OSU KNOXVILLE /
This is a great site that I send all my 1st Class Petty Officers to as they are developing their writing skills. Excellent.
PO3 Cooper / Nov 27, 2012 / NCIS HQ 0166 /
a welcome resource. I will contribute examples when I can. thanks!
roland / Sep 7, 2012 / csg9 det-1 /
Remarkable site.
MM2 (DV/SW) Robert T Kelly Jr USN(RET) / Aug 10, 2012 / MDSU-1 Det-319 & 2 Det-813,NR Seal Team-8, NSWU 2 &4 ,USS Dixie,USS Midway,USS Worden,USS Reeves,USNS Mispillion /
I really enjoyed your website and it brought back alot of memories.