Construction (BU, CE, CM, EA, EO, SW, UCT, UT)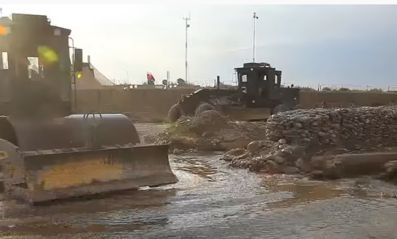 Unspecified
If rating or duty title isn't provded with contributions, they will be listed below:
CDR Paul A Boyce is a plank owner of the NAVSEA Heavylift and Drydocking Unit. He provided technical leadership and held only the the most challenging positions including Projects Officer, Chief Engineer, and Execuive Officer. He ensured this new unit was effectively organized and was technically capable of executing it's primary mission - the planned and emergent heavylift of US Naval assets anywhere in the world. He was key to the success of the unit's first operational assignment-the heavylift of the ARDM-10 (former Resolute) from Norfolk, VA to Todd Shipbuilding Puget Sound, WA. He coordinated with the crew of Mighty Servant 3 the the construction and placement of the blocking. This was a particularly complex build due to the fact that Resolute does not have a keel. He was one of the first unit members to be fully qualified as a HLPO and was selected to be the HLPO of the USS Avenger (MCM-1) from Ingleside, Tx to Sasebo Japan . In his capacity as the MCM-1 HLPO, CDR Boyce led and coordinated the efforts of the Military Sealift Command COTR, NAVSEA SUPSALV, the docking observer, the heavylift vessel, Ingelside and Sasebo Port Services, ship's force, and NSY Puget Sound (the MCM planning yard). He also provided under instruction HLPO training for a unit member which resulted in another fully qualified HLPO. CDR Boyce's superior leadership and technical skills ensured that all heavylift operations (6 total) were executed safely, on schedule, and within budget constraints. He also provided other significant technical support as a Docking Observer support to the Mid Atlantic Regional Maintenace Activity (formerly MARMAC now MIDLANT) and was the Docking Observer of Record for 8 onloads and 4 offloads of US Navy DDGs and CGs. CDR Boyce's support of these docking observations provided technical and personnel flexibility to MARMAC. These distinctive accomplishments of CDR Paul Boyce culminate a distinguished career in the service of his country and reflect great credit upon himself, engineering duty community, the United States Navy, and the Department of Defense (Office of the Secretary of Defense).
---
Report submitted upon members promotion to Third Class Petty Officer. Highly motivated and dependable. Sets a high standard of work quality and professional performance.
- Technical Expert. As a floor mechanic, he completed 13 Annual Vehicle Safety Inspections on CMND CESE, totaling 52 hours of work that allowed for the completion of 22 successful line hauls without mishaps or downtime. He completed over 64 hours on corrective maintenance allowing for the activation of two MTVRs increasing availability.
- Outstanding Leader. Supervised and mentored six new personnel on the completion of 76 3M PMS checks and 48 corrective actions. Trained and led two PO3s and 5 peers in the correct use and maintenance of the M240B machine gun, allowing for a more efficient security on AIR DET defense lines leading to successful completion of CMND 2018 FTX.
- Multitalented. Completed 22 days of training on and off the field qualifying him to operate crew served weapons, perform personnel and vehicle decontamination, and operate as a CBR team member. His proficiency on knowledge allowed him to become a highly valuable member of CMND DET, allowing for heightened proficiency during 2018 FTX.
- Constructionman Allstar is a dedicated leader, deeply committed to mission success. He is ready to assume positions of increased responsibility and authority.
---
-Administrative Magician. As TA01 Work center supervisor he quickly took charge, added 202 components row items in SKED, added 339 components to OMMS-NG, and passed two ATG 3M inspections with 100%, passed 10 SERE/SPF/MPF inspections, and completed three force revisions. Coordinated the total refurbishment of four containers, procured the delivery of 200 new 463L pallets from TRANSCOM, ensuring the deployability of 450 containers.
---
INNOVATIVE MANAGER. As the command License Examiner he meticulously managed 2,456 license records, 92 explosive license files, issued 718 new licenses and ensured that all files were updated in Fleet Focus with 100% accountability. He developed a government license tracker making it streamlined for locating licensed and unlicensed personnel throughout 14 different commands.
---
56 hours of community service helping feed the needy. volunteer work in the neighborhood helping the elderly take out trash, cut the grass and other miscellaneous chores. worked outside my rate as project lead in the granby, colorado for two months in charge of 12 first class petty officers, 17 second class petty officers, 5 third class petty officers, and 4 construction men. welded 1/2 acre of fencing to ensure the safety and well being of 46 YMCA stable horses, all while teaching SWCN cox the proper techniques of welding and PPE protection. Constructed the planning and remodeling of 31 YMCA Guest Cabins, 12 Administrative cabins, and 2 Lodging buildings. Planning and construction of 8 (4'x8'x16") shelves for Nordic Center guest. Remodeled 31 steps in the YMCA Chapel. Assisted in the construction of two support walls in the YMCA Chapel.
---
Constructionman _______ is an up and coming leader who has what it takes to accomplish any task or goal, with little to no supervision, producing extraordinary results.
Despite an increased workload and declining support, Petty Officer Ryan led 27 Seabees to complete the largest project entrusted to his unit to date ahead of schedule and provided unparalleled maintenance support to Camp Leatherneck.
Participated in the western expanison of Camp Deh Dadi II, Afghanistan by removing more than 50,000 cubic yards of material and reclaiming 30 acres of land for 2 planned Tactical Operation Centers and 3 supply yards which will reduce the time it takes to supply other Forward Operating Bases.
---
- Led a section of 8 Second Class Petty Officers in the performance of weekly personnel and unit inspections which enforced goals, improved performance, and increased morale.
- Led and trained seven personnel during participation in three global exercises, dramatically expanding their skill set.
- As HAZMAT coordinator, maintained an acurate inventory and full complement of all material needed by tenant commands with zero findings during inspections.
- Headed installation of 800KW power plant, a two million dollar project which powered the entire Trident Reach II operations
- Served as Equipment Readiness Leading Petty Officer in a challenging environment that led to his selection as Third Naval Construction Regiment Sailor of the Year.
---
Donated her spare time to the Point Mugu fitness trail project. She excavated more than 5,000 square feet for footers and forms and placed over 450 cubic yards of gravel for subgrade
- As license examiner, Command Fitness Leader, and assistant 3MC, his efforts directly contributed to the successful deployment of 112 personnel including the issue of 25 critical equipment licenses and 3M 301 qualifications.
- Assisted in the installation of a $55 thousand electrical distribution site; built 9 circuit panels and ran over 5,000 feet of wire, providing power for 10 tents
- Oversaw project growth and through meticulous planning and foresight, predicted future equipment requirements which led to D7 dozers and excavators being flown into the AO just in time to keep project on schedule.
- Efficiently led crews in the completion of 12 jobs and mitigated 5 safety deficiencies.
- Completed two high visibility projects on naval base Point Loma: a 1200 CMU block hazmat storage facility critical to the Navy's environmental preservation and a ramp at the small arms range built to ADA specs which allowed access for disabled personnel for the first time.
- While deployed to Task Force Keystone, tracked and maintained 100% control of over 200 units of Army engineering equipment assigned to three engineering units distributed across Southern Afghanistan.
- His construction efforts directly contributed to the success of combat engineers in securing critical lines of communication and ensured the freedom of movement for coalition forces.
- Educated Arba Minch, Ethiopia locals on generator operation and maintenance which prevented engine damage and provided reliable electrical support
Deployed to Deh Dadi II, Afghanistan to build a fuel farm for the camp; he placed over 3,500 cubic yards of fill to create retaining walls for eight 50,000 gallon fuel bladders.